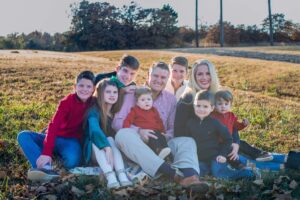 Our pastor is Ryan Allan Redwine, Ph.D., known simply as Bro. Ryan @VillageBaptistOKC. Ryan has been in ministry for over twenty years. He has served as a lay leader, camp counselor, student minister, collegiate minister, associational missionary with the North American Mission Board, & a theology professor before answering the Holy Spirit's call to preach & undershepherd at the local church.
Ryan's greatest passion is to preach and teach the inspired, inerrant, infallible Word of God with great enthusiasm and to lead VillageBaptistOKC to have a great love for the countless Lost in our OKC community and Nations by sharing the Gospel. Ryan is leading VillageBaptistOKC to live the disciplemaking life where Jesus is King: Over Our Lives, Church, & City.
*Husband to Stacy LeAnn (M.A. Missiology, Southwestern Baptist Theological Seminary, 2006)
*Dad to Seven Wonderful Kiddos
*Originally from Norman, Oklahoma
Ryan's Focus: Trust the Holy Spirit, Preach the Word, Undershepherd to our People, Lead Discipleship Initiatives, Lead in Prayer, Teach Theology, Cast Vision for Village's Present and Future, Lead Missional Endeavors
Experience:
-Pastor, VillageBaptistOKC, OKC, OK (2018-Current)
-Continued research within Irenaean Theology (Current)

-Member of Evangelical Theological Society & Presenter at SW ETS
-Reader on Ph.D. preaching dissertation (Spring 2020)
-Pastor, Soldier Creek Baptist Church, MWC, OK (2013-2018)
-Adjunct Professor of Theology, Swbts Shawnee Extension (Fall 2018)
-Adjunct Professor of Theology, Swbts Prestonwood Extension (Fall 2017)
-Adjunct Instructor of Theology, Swbts Shawnee Extension (Fall 2016 – May 2017)
-Pastor, Eastman Baptist Church, Marietta, OK (2010-2013)
-Collegiate Minister, Wedgwood Baptist Church, Fort Worth, TX (2007-2010)
-North American Mission Board (NAMB) Missionary, Reno, NV (2005-2007)
-Lay Preacher, Kent's Nursing Home, Fort Worth, TX (2001-2004)
-Lay Leader in Youth Ministry in churches in Oklahoma & Texas (2000-2004)
-Fellowship of Christian Athletes (FCA) Camp Counselor (1998-1999)
Theological Education:
-Doctor of Philosophy (Ph.D.), Swbts, 2017
-Major: Systematic Theology with Emphasis in Early Church Theology (Patristic Theology)
–Dissertation Topic: "The Knowability of the Father in the Theology of Irenaeus"
-Master of Theology (ThM), Swbts, 2009
-Master of Divinity w/ Biblical Languages (MDiv/BL), Swbts, 2004
Undergraduate Education:
Bachelor of Science (B.S.), Computer Information Systems, Southern Nazarene University, 2000
Life Verse: ". . . and whatever you do, do all for the glory of God." 1 Corinthians 10:31
VillageBaptistOKC is blessed with great servant leaders. We have deacons to serve the church membership and meet needs in our community. We have a Deacon of the Week on call who can be reached at deacons@vbcokc.org.