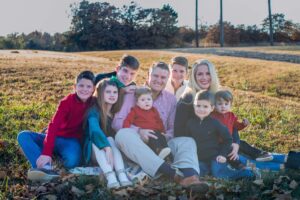 Dr. Ryan A. Redwine, Ph.D.
*Husband to Stacy LeAnn (M.A. Missiology, Southwestern Baptist Theological Seminary, 2006)
*Daddy to Brysan, Tillman, Holdan, LeAnna, Warran, Daxan, & Laytan
*Originally from Norman, Oklahoma
What I Do: Trust the Holy Spirit, Preach the Word, Undershepherd to our People, Lead Discipleship Initiatives, Lead in Prayer, Teach Theology, Cast Vision for Village's Present and Future, Lead Missional Endeavors
Experience:
-Senior Pastor, Village Baptist OKC, OKC, OK (2018-Current)
-Adjunct Professor of Theology, Swbts Shawnee Extension (Spring 2019)
-Senior Pastor, Soldier Creek Baptist Church, MWC, OK (2013-2018)
-Adjunct Professor of Theology, Swbts Shawnee Extension (Fall 2018)
-Adjunct Professor of Theology, Swbts Prestonwood Extension (Fall 2017)
-Adjunct Instructor of Theology, Swbts Shawnee Extension (Fall 2016 – May 2017)
-Senior Pastor, Eastman Baptist Church, Marietta, OK (2010-2013)
-Collegiate Minister, Wedgwood Baptist Church, Fort Worth, TX (2007-2010)
-North American Mission Board (NAMB) Missionary, Reno, NV (2005-2007)
-Lay Preacher, Kent's Nursing Home, Fort Worth, TX (2001-2004)
-Lay Leader in Youth Ministry in churches in Oklahoma & Texas (2000-2004)
-Fellowship of Christian Athletes (FCA) Camp Counselor (1998-1999)
Theological Education:
-Doctor of Philosophy (Ph.D.), Swbts, 2017
-Major: Systematic Theology with Emphasis in Early Church Theology (Patristic Theology)
-Minor: Preaching
–Dissertation Topic: "The Knowability of the Father in the Theology of Irenaeus"
-Master of Theology (ThM), Swbts, 2009
-Master of Divinity w/ Biblical Languages (MDIV/BL), Swbts, 2004
Undergraduate Education
Bachelor of Science (B.S.), Computer Information Systems, Southern Nazarene University, 2000
Life Verse: ". . . and whatever you do, do all for the glory of God." 1 Corinthians 10:31
Jeremiah Orr

*Husband to Christina Orr
*Father of Blakely Orr
*Adoptive father to Dillon and Denver Bell
*Originally from Augusta, Kansas
What I Do: Minister to the students of VBC and their parents through the power of the Holy Spirit in order exalt Christ by connecting with students for spiritual growth, service, and sharing of the Gospel
Experience: Student Minister- Village Baptist OKC (May 2019-present), Student/Worship Minister- The Way, Savoy Tx (2015-2019), Chaplain/Bible teacher- Morning Star Academy, Bonham Tx (2015-2019), Student/Worship Minister- FBC Savoy, Tx (2010-2015), Student/Worship Minister- Desert Spring Baptist Church, Reno NV (2007-2010), Student Minister- FBC Hawthorne, Hawthorne NV (2005-2006), Student/Worship intern- New Harmony Baptist Church, Salem MO (2005-2005), Missionary Team Member- Life Action Ministries, U.S.A. (2001-2003)
Education:
B.A. Secondary Education- UNR, 2010;
Attending Swbts in pursuit of a Masters of Theology
Life Verse: "Before I formed you in the womb I knew you, and before you were born I consecrated you; I appointed you a prophet to the nations." -Jeremiah 1:5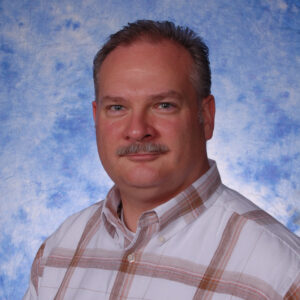 *Dad to two great sons: Taylor with wife Lindsay and grandson Tyson & Travis with wife Melissa & granddaughters Emma & Kinley.
*Originally from Healdton, Oklahoma
What I Do: Minister to Village Baptist OKC membership by leading them to sing praise and bring honor to Jesus Christ
Experience:
Vilage Baptist OKC from 2010 – Present, Minister of Worship at First Baptist Atoka from 2005 – 2010, Minister of Music at Fittstown Baptist Church, First Baptist Wilson, First Baptist Tishomingo, Organist at Calvary Baptist Church in Durant and pianist at Parkside Baptist in Denison, Taught public school in Achille and Tishomingo, OK and Denison, TX
Education:
Bachelor in Secondary Education in Music and Piano Performance (Double Major), East Central University, Ada, OK
Life Verse: Psalm 121:1-2: "I will lift up my eyes to the mountains; From where shall my help come? My help comes from the Lord, Who made heaven and earth."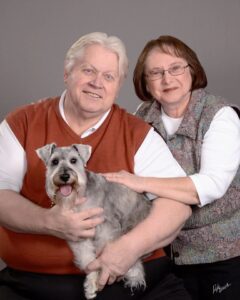 Church Business Administrator
*Husband to Suzanne (Sue)
*Father to Stephani, Shawn and Sara
*Grandfather to 6 amazing grandchildren; Taelor, Maddie, Madison, Mathew, Cate and Clair
*Originally from NW Minnesota
I came to a saving knowledge of Jesus Christ at the age of 17 just a few weeks before entering the Navy. I attended college at Pillsbury Baptist Bible College after spending 8 years in the Navy's Submarine force. While attending college I sought God's will for my life and while I did not sense God leading me to full time Christian service, He did prepare me for a variety of activities in the local church. I believe God gave me a diverse career in business to prepare me to serve Him as Church Business Administrator at Village Baptist OKC. I believe through a variety of circumstances He planted me here and I have never enjoyed a job more. Sue and I have had a wonderful life together since 1972. We have three adult children and 6 amazing grandchildren. I want to pray with the boldness and sensitivity of Nehemiah and I do believe I live my life as God instructed us in Philippians 4:6-7.
Life Verse: "Don't worry about anything ….present your requests to God…and the peace of God… will guard your hearts and minds in Christ Jesus" Philippians 4:6-7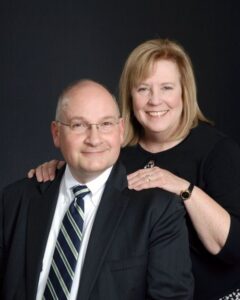 Administrative Assistant